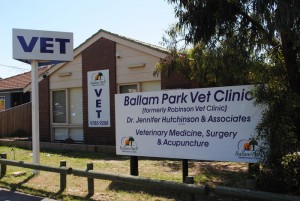 If you would like the benefit of a large veterinary hospital with all of its equipment and staff but without the hustle and bustle of a large practice then Ballam Park Veterinary Clinic is your solution.
While smaller than its sister practice just up the road, Ballam Park Veterinary Clinic provides all the same level of care with the support of a large veterinary team and state-of-the art equipment nearby. In fact many our clients comment how they love coming to small veterinary practice but know that if needed their pets have access to all the very best veterinary care available.
The clinic has ample on-site parking. The waiting room is fitted out with an excellent retail area selling a range of Hill's Science and Prescription Diet pet foods, parasite prevention products, shampoos and other products. There are two large, open consult rooms that allow pets to relax while they get checked over by a member of the veterinary team. A surgical suite and in-house laboratory allow for most procedures to be performed. If anything more extensive is needed (such as radiology, ultrasound or major surgery) then the patient is transferred 200 metres up the road to Karingal Veterinary Hospital to be operated on by a member of the team there or alternatively your Ballam Park Vet Clinic veterinarian will go and perform the procedure.
Many of our clients are seeking alternative therapies to treat their pet's ailments. At Ballam Park Veterinary Clinic we are able to provide our clients with access to acupuncture. This ancient treatment can be used for a wide range of conditions and is a perfect adjunct therapy to the more well-known treatment methods.