Purpose-built in 2000, Karingal Veterinary Hospital is the Mornington Peninsula's only accredited Hospital of Excellence by the Australian Small Animal Veterinary Association.
The hospital's facility includes a large waiting area with an extensive retail area offering pet foods, shampoos, leads, toys, treats and other products. It is here that you will also find our hospital pets… an assortment of various species of reptiles including Gryphon the Eastern Water Dragon, Don Pablo our Central Bearded Dragon and our resident Coastal Carpet Python, Selma.
Five consultation rooms allow us to handle a large number of appointments yet provide a private room for clients should they need to spend some time with their pets.
A well-equipped in-house laboratory means we can get test results quickly and allows us to accurately diagnose a pet's problem.
The pharmacy is well stocked with a large range of medications to treat almost every condition that presents.
Our hospital wards consist of separate dog and cat kennels. The dog ward can cater for large dogs the provision of four walk-in runs. Smaller dogs are housed in one of twenty-six stainless steel kennels. The cat ward is used not only for cats but also to house our more unusual hospitalised pets such as rabbits, ferrets, guinea pigs and birds. Reptiles and amphibians don't miss out either with a specially built ward for them to cater for everything from a tiny frog to a 5 metre long snake!
The treatment area is the hub of the practice and is well-equipped to handle minor surgical procedures, dental treatments and all emergencies. It is in this area we have our recovery cages to allow animals waking up from anaesthesia to be monitored.
Our surgical suite can handle two simultaneous surgeries and is fitted out with patient monitoring and warming equipment, intravenous fluid pumps and an assortment of other equipment to allow a range of surgical procedures to be completed in a timely and sterile fashion.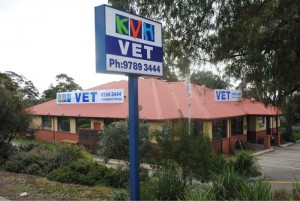 When it comes to diagnostic imaging Karingal Veterinary Hospital is well equipped with digital radiography, digital dental radiography, ultrasound and endoscopes.
We have a large conference room where we conduct our Puppy School classes and hold our staff meetings.
At the rear of the practice are two 24/7 DIY dog washes that are a very popular addition to the practice.
Any way you look at it Karingal Veterinary Hospital is one of the best equipped veterinary hospitals in the country. Open 7 days a week and with extended hours available we can handle almost any health problem your pet may have.