Ferrets are highly intelligent and social animals that are fun and friendly pets! Because ferrets are so social, they need to live with a few friends—never have a single ferret as a pet. If you own a pair or more of ferrets, the collective noun is a 'business of ferrets.'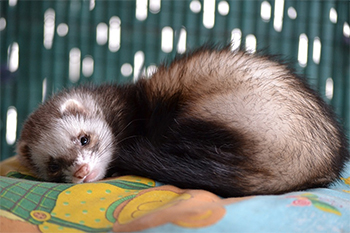 Ferrets are extremely inquisitive, so you will need to ferret proof your home before your new pet ferret arrives. Ferrets do naturally nip or bite as part of their play and our vets can advise you about training tips that will help your pet ferret learn not to bite humans. Ferrets are not recommended as pets for younger children, who may be afraid when they bare teeth or nip and may play with them too roughly.
Ferrets love to play! They look a little scary when they bounce around with teeth bared and play aggressively with each other but this is all part of their natural playing behaviours. They also make cute giggling sounds, puff their tails and suddenly lie still, as if invisible. You can play games like hide and seek with your ferrets, let them chase toys such as feathers or even drag them around the floor on a hand towel—they will enjoy the ride!
Ferrets need a cage to live in, ideally with separate areas and a darker spot for sleeping, water bowl or sipper bottle and a litter box. They like a variety of toys and love the novelty of new playthings, which can be anything from a specially designed tunnel for ferret playtime, a plastic bag or even a box of leaves.
Ferrets need to be desexed and need yearly vaccinations to prevent illnesses. Our vets are experienced in ferret desexing operations and providing ongoing vet care to your pet ferret. Desexing will also reduce the strong scent that is unfairly associated with pet ferrets. It is extremely important to spay female ferrets in particular as they can develop a life-threatening anaemia if they are not desexed.
Ferrets need to eat meat and need a high protein diet designed especially for their nutritional needs. Our vets can advise you on the right foods to feed your ferret for optimum health and wellbeing.
In terms of regular care for your ferret, you need to clean its ears, cut its nails and keep its cage and litter clean. Despite their reputation for being smelly, ferrets are naturally clean animals and need a good source of water for washing themselves and drinking. You can give them an occasional bath using specially formulated gentle shampoo as they have very sensitive eyes. Ferrets also need care for their coat with anti-flea treatments. Make sure to visit your vet for regular health checkups with your pet ferret. Our vets are very experienced in caring for pet ferrets.