­­­­­­Rabbits make great pets! Any rabbit owner will tell you that each rabbit has a distinct personality—some are active and playful, while others may be relaxed and peaceful.
With the right care, rabbits make great household pets—they're low maintenance, friendly and affectionate, and can even be trained to respond to basic demands. There are endless breeds of rabbits available, and our vets are experienced with caring for both common and exotic rabbits as pets.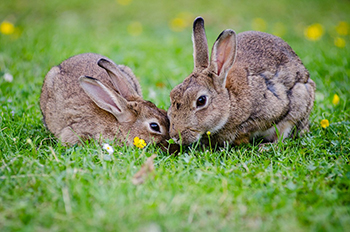 ­­­­One of the key elements of rabbit care is providing a good sturdy hutch for them to sleep in. Rabbits have a tendency to dig under fences so it's essential to keep them safe from predators in a hutch and let them out daily (morning and afternoon is best) for a safe run around the garden or home.
It is vital to desex rabbits to prevent unwanted litters and it also helps reduce hormone driven aggression and territorial behaviours. Female rabbits are prone to uterine cancer, which is also prevented with desexing. Our experienced vets can safely castrate or spey your rabbit in our surgery.
Common rabbit ailments include dental problems, ear issues, gastrointestinal troubles and respiratory infections. Rabbits have unique health challenges and sensitivities, and our vets are skilled in rabbit care to help you make informed decisions for the health and wellbeing of your furry companion.
Rabbits should be vaccinated against a deadly virus called calcivirus. This highly contagious virus that can rapidly kill rabbits. Thankfully a very effective vaccine is available. We recommend vaccinating all rabbits against calcivirus even if they are kept indoors all the time.
Another common and devastating disease that affects rabbis is the virus myxomatosis. This is a serious ailment that is often terminal, so it's important to discuss prevention strategies with your vet to minimise your rabbit's chances of infection. Unfortunately, there is currently no vaccine available in Australia, so prevention is key.
When fed the incorrect diet many rabbits will develop severe dental and gastrointestinal problems. They need a specific combination of hay, grass and vegetables. Pellets should be avoided unless they are a hay-based pellet such as Oxbow. We are pleased to stock a good selection of these excellent foods. Almost all pellets and mixes that are sold at pet shops and supermarkets are in fact dangerous to rabbits and should be avoided. Our vets can advise you on the best food plan for your rabbit to get the balance of nutrients just right.
Non-rabbit people are surprised to find that rabbits enjoy playing with toys. Specially designed toys are a great way to keep rabbits entertained and out of trouble. Our veterinary health care team can advise you on suitable toys and products.  We currently don't stock any rabbit toys