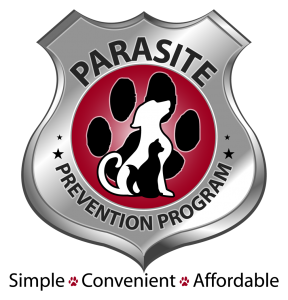 The veterinary health care team at Karingal Veterinary Hospital and Ballam Park Veterinary Clinic are a group of highly dedicated professionals who have a passion for providing high quality veterinary care.  We are passionate about the health of your pets and that is why we recommend the Parasite Prevention Program as the best choice to keep your pets well through preventative healthcare.
Simply enrol your pet into the Parasite Prevention Program to receive the flea, heartworm, tick and gastrointestinal products they need and let them look after the rest. Your pet will receive the appropriate products in the mail at the time they are required. No longer will you find yourself forgetting to give your pet it's monthly flea treatment or that gastrointestinal worming tablet every 3 months… it comes in the mail and you simply use it.
The Parasite Prevention Program is designed to not only be simple and convenient, but also affordable. The program allows you to spread the costs out so you pay monthly by direct debit from your bank account or credit card.
The cost of each package within the Parasite Prevention Program is dependent on three things:
The species of animal i.e. whether the pet is a dog, cat, rabbit or ferret;
The pet's weight and;
The products that are chosen for your pet.
All the staff at our practices are fully trained on all aspects of the Parasite Prevention Program.
Next time you're at Karingal Veterinary Hospital or Ballam Park Veterinary Clinic ask us about the Parasite Prevention Program.  Alternatively you can go to the Parasite Prevention Program website for more information or to enrol directly.