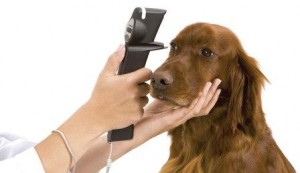 Tonometry is a special procedure that allows for the pressure inside the eye to be measured. Just like in humans, pets such as dogs and cats can suffer from a condition called glaucoma where the pressure inside the eye increases. This increased pressure results in blindness and is extremely painful.
As part of many routine eye examinations our veterinarians will assess the pressure of your pet's eyes to check for the development of glaucoma and other conditions that can affect the fluid pressure in the eyes.
Taking eye pressures in humans is a relatively easy procedure because we can sit very still and allow the ophthalmologist to use their tonometer equipment. Our patients are often a little less cooperative and may not like being even slightly restrained or having an instrument placed near their eyes. With this in mind, Karingal Vet Hospital and Ballam Park Vet Clinic has invested in the purchase of an instrument called a Tonovet which allows for eye pressures to be taken with as little stress as possible.
The Tonovet is a type of tonometer called a rebound tonometer. A small plastic tipped metal probe is magnetised in the hand-held machine and pushed out against the cornea. This happens in a tenth of a second and almost all animals don't even know they have had the procedure done! No sedation or local anaesthetic is required and most pets tolerate it very well.