One of the most common methods of diagnosing health problems in pets is by performing laboratory tests. The type of problem your pet is experiencing will determine the specific lab test required. There are thousands of tests available and it is important to choose the correct test that will give the most important information or a specific diagnosis.
Samples
The most common sample types are blood, urine and faecal tests.  Our vets are experienced at taking blood samples causing the least pain possible for your pet. Urine and faecal samples can be tricky to capture, but we will work with you to help identify the best sample collection process. The laboratory facilities at Karingal Vet Hospital and Ballam Park Veterinary Clinic include tests run in the clinic and tests that are sent out to an external laboratory.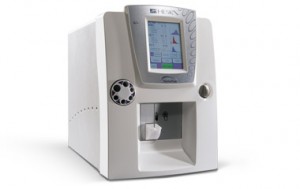 In-House Laboratory
Our in-house laboratory is well equipped to test a large number of different sample types for a wide range of problems.
We have in-house blood analysis machines that allow us to fully assess your pet's blood within 15 to 20 minutes of a blood sample being taken. With such a rapid turn-around time, we can quickly and accurately diagnose your pet's problem and start treatment as soon as possible. These machines test for many different problems by looking for changes in organ function as well as alterations in blood cell counts. Examples of conditions that can be diagnosed by our in-house blood analysers include kidney failure, diabetes and anaemia.
A microscope is used to check many different types of samples. At Karingal Vet Hospital our microscope has a built in digital camera that is connected to a computer monitor. This means we can show clients exactly what we are looking through the microscope so they can have a greater appreciation of what is required to treat their pet. We can show clients samples taken from lumps and bumps, skin scrapings showing mites and other parasites and abnormalities in blood cells. Our veterinary team takes particular pride in performing in-house cytology on samples and giving clients accurate and immediate answers rather than sending every sample to our external lab.
Urine samples can be tested for infection, blood, crystals and other abnormalities using a range of different equipment. Similarly, faecal samples can be examined for parasites and blood for example.
We have range of special in-house serology tests that can diagnose conditions such as feline immunodeficiency virus (FIV), parvovirus in dogs and heartworm infection. These tests are quick and accurate allowing us to diagnose the problem while you are still in the hospital.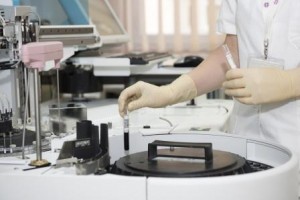 External Laboratory
Not every laboratory test can be run in-hospital. It may be that very specialised equipment is required or that the sample requires a specialist pathologist to examine it. In these situations we send samples to our external laboratory, Gribbles Veterinary Pathology. Our veterinarians work very closely with the pathology team to get to bottom of every pet's health problem. Whether it be a simple phone call for advice through to extensive laboratory testing, you can be assured our veterinarians have every situation covered. Pathologists from Gribbles often visit our practices to deliver one-on-one training with our veterinary team to help keep us at the forefront of veterinary laboratory medicine.
Gribbles also has an extensive courier system, with samples being collected four times a day so that your pet's samples get to the laboratory promptly. All laboratory results produced by Gribbles Veterinary Pathology are automatically attached to your pet's medical record and we are alerted whenever a report becomes available.