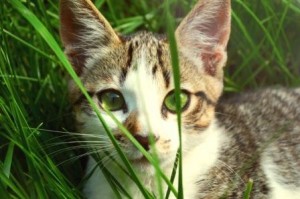 Vaccines are health products that trigger protective immune responses in pets and prepare them to fight future infections from disease-causing agents. Vaccines lessen the severity of future diseases and certain vaccines can prevent infection all together. Today a variety of vaccines are available for use by veterinarians. Our veterinary team constantly assess new research and use this to ensure we stay as up-to-date as possible with respect to vaccinations in pets.
Vaccinations for Dogs
Vaccinations are one of the most important preventative health measure we take for our dogs.  There are numerous diseases that need to be protected against including canine parvovirus, distemper, hepatitis and "canine cough".  All puppies need to receive a series of vaccinations starting at 6 to 8 weeks, with boosters at 12 and 16 weeks. To learn more detailed information about dog vaccinations click here.
Vaccinations for Cats
Vaccinations are essential for preventing some serious diseases in cats. There are a number of diseases we vaccinate against including feline enteritis, cat 'flu and feline AIDS (or FIV). All kittens should receive a series of vaccinations starting at 6 to 8 weeks of age with further boosters. To learn more about cat vaccinations click here.
Vaccinations for Rabbits
Just like our canine and feline pets, rabbits need to be vaccinated. A deadly virus called calicivirus can kill rabbits very quickly and is easily transmitted via biting insects such as mosquitoes. Thankfully a vaccine is available to protect rabbits against this.