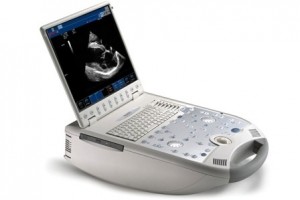 Many people are familiar with the use of ultrasound as a method for imaging in the human medical field. This same technology is available for our pets and is a very important diagnostic tool that is used daily in our practices.
An ultrasound examination is a non-painful, non-invasive method of evaluating the health and function of many of the body's internal organs. In addition, it is ideal for determining if a pet is pregnant, detecting bladder stones and assessing the depth and structure of lumps and bumps.
An ultrasound machine works by a transducer producing high frequency sound. The transducer is held in the operator's hand and placed on the body surface. The sound waves pass through the skin and penetrate into the body. When they strike the body tissues such as liver, kidney and heart some of the sound waves pass through or are transmitted while some of the sound is reflected back to the transducer. Different tissues transmit and reflect sound at different levels. The transmitted sound is collected by the transducer and powerful computer software converts this into the ultrasound image.
While ultrasound has been a common diagnostic imaging tool for many years, they are still an expensive piece of equipment to purchase. For this reason, many veterinary clinics do not have in-house ultrasound available and need to refer their patients to specialists to have it performed. Karingal Veterinary Hospital purchased its first ultrasound machine nearly 20 years ago and has since then upgraded the equipment. We now have a state-of-the-art, fully digital ultrasound machine that is capable of producing extremely clear and useful images.
Having the equipment is one thing but it's useless if you don't have the trained staff that know how to use it! Karingal Vet Hospital and Ballam Park Veterinary Clinic have several veterinarians who are very experienced and have received advanced training on the use and interpretation of ultrasound. We also receive many referrals from other local veterinary practices to perform ultrasound examinations on their client's pets.
Ultrasound can be used to accurately take samples from inside the body in a relatively non-invasive manner. Using the ultrasound, a needle can be precisely guided to get a perfect sample for lab testing. Taking ultrasound-guided samples and biopsies takes quite a bit of practice to do well but again our veterinarians are fully capable of performing this procedure.
Echocardiography is a special type of ultrasound examination that involves observing the heart and taking a range of very specific measurements. This allows a pet's heart to be compared to known normal values and an assessment as to how well it is functioning can be made. Performing echocardiographs properly takes many years of practice and extensive training. Like other aspects of ultrasonography our veterinary team are very experienced with performing this procedure.
Our ultrasound machine is also equipped with a particularly advanced feature called colour flow Doppler. This technology is able to detect and show the directional flow of blood through the heart and vessels in the body. This is particularly useful for assessing a pet for heart disease and other cardiovascular problems.
The use of a digital ultrasound machine allows us to record, measure, manipulate and review still images and video of any ultrasound examination. These can be attached to your pet's medical records, sent to specialists for second opinions or used at a later date to compare changes in a particular organ's size, shape and appearance.
What happens to my pet when it needs an ultrasound?
Because ultrasound examinations are not painful in many cases they can be performed on a fully conscious pet. If a pet gets agitated by being restrained, is painful or does not have a temperament to allow an ultrasound to be performed, sedation can be used.
Ultrasound works best when there is no hair between the transducer and the skin. For this reason your pet will be clipped to allow for better images to be obtained. A special ultrasound gel is also applied to the skin to allow more sound to pass between the transducer and the body. While it may be a little cold, the gel is water-soluble and wipes away cleanly after the procedure has been performed.