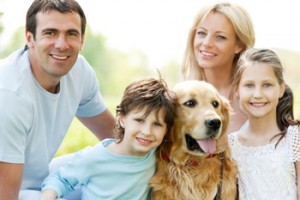 If you're anything like the team of vets and nurses here at Karingal Vet Hospital and Ballam Park Clinic, you absolutely adore your pet and want him or her to live happily for as long as possible.
Sadly, most owners will outlive their pets and that's the price we pay for the wonderful enjoyment they bring to our lives each and every day. But as a pet owner, there are plenty of things you can do to make sure your pet maintains its wellbeing and ensure it lives to a ripe and happy old age.
Nutrition
Keeping an eye on your pet's waistline is essential to your pet's wellbeing. Just like us humans, pets are more likely to live longer and are less likely to suffer diseases if their weight is under control. It can be tempting to over feed a pet because we love them so much, but we must do the right thing for their health. Of course, nutrition is not all about weight management as you also need to ensure your pet is getting the right blend of nutrients to maintain a healthy lifestyle. Our vets can help you choose the right nutritional plan for your pet and budget.
Exercise and lifestyle
Most pets need regular exercise to feel happy and healthy! Dogs need walking, rodents need to play and even a sleepy cat will enjoy a run from time to time like chasing a laser pointer. For pets that don't require a lot of exercise, like rabbits and reptiles, it's still important to consider their lifestyle and to provide the stimulation via environmental enrichment it needs so it doesn't get bored, lonely or depressed. Just like humans, many pets are social and have natural instincts that need to be expressed for them to be happy and remain healthy.
Vaccinations
Keeping vaccinations up to date is vital for your pet's health and wellbeing. We will send you a reminder when your pet is due for his or her next booster. If you move house make sure you let us know your new address! Even better provide us with an email address and we can send your pet's vaccination reminder straight to you.
Health checks
It's important bring your pet to us for a regular checkup, even if there are no apparent signs of illness. During a health check our vets will check your pet's vitals and important body systems.  You can consult us on any health, behaviour or lifestyle concerns and together with our vet's advice you can make decisions to ensure the ongoing wellbeing of your furry, feathered or scaly friend. The expert eye of a vet can spot potential illnesses that you may have missed and early treatment can often mean the best outcome for your pet.
To arrange a health check for your pet, contact us today.