Popular Breed Series: Dachshund
Posted on: Jun 28 2019
History
'Dachs' means badger in German and 'Hund' means dog – so this long, little dog was bred to hunt badgers and was aptly named Badger Dog. The Dachshund has short, strong legs that give it the ability to go into burrows and dig out prey like badgers, hares, foxes and ferrets. Although some countries still use Dachshund's for hunting, it is mostly a family pet nowadays.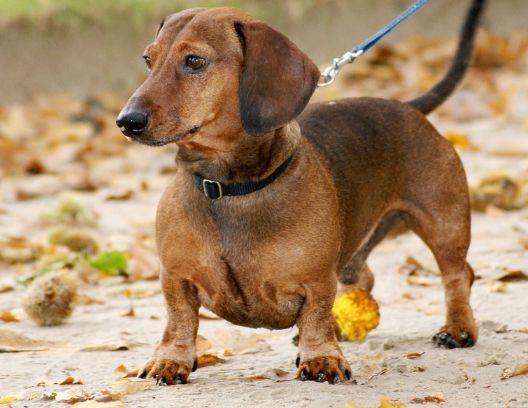 Personality
This little, long bundle is full of personality. Dachshund's make courageous companions – although they are known to show aggression towards other dogs and strangers. They have a stubborn and destructive streak and sometimes they can be a little challenging to train. The loud bark may annoy neighbours but, on the whole, they are an affectionate and popular breed. The loud bark makes them great watchdogs. We encourage you to take your Dachshund to training so they remain obedient and happy pets.
Appearance
The Dachshund is affectionately known as a 'Sausage Dog' due to its long body. It has short, bowed legs, floppy ears and a sharp snout. There are 3 different types: a long-coat Dachshund, a smooth-coat Dachshund and a wire-coat Dachshund. There is also a miniature variety.
Health Care
Due to their distinctive long backs – Dachshunds are prone to disk problems in their back. It is best to keep your Dachshund at its optimal weight to avoid additional strain on the disks and they may not fare well in homes with lots of steps. Speak to one of our veterinarians for nutritional tips for your Dachshund.
Owner's Responsibility
If you are the proud owner of a long-haired Dachshund, you will need to commit to daily brushing. Dachshunds require 20-40 minutes exercise per day. They are content to live in small spaces and like company, becoming destructive if left alone for too long. They make good companions for retired people. Ask our Frankston vets for some exercise tips to keep your dog fit and active.
Dachshund – Quick Look
| | |
| --- | --- |
| Size | Standard and Miniature |
| Weight | 4 kgs – 14 kgs |
| Coat | 3 variants: smooth, wire and long-coated |
| Colour | Black, tan, fawn, chocolate, brindle, grey |
| Lifespan | 12 – 14 yrs |
| Temperament | Energetic |