Popular Cat series: Russian Blue
Posted on: Nov 8 2019
History
The early Russian Blue originated from Russia and was brought to Europe in the 1860's by a navy soldier. They were later bred with the Siamese cat but the modern Russian Blue has no trace of Siamese in their bloodlines. Russian Whites and Russian Blacks were created by breeding with domestic white and black cats, yet Cat Associations do not recognise any variation of the breed.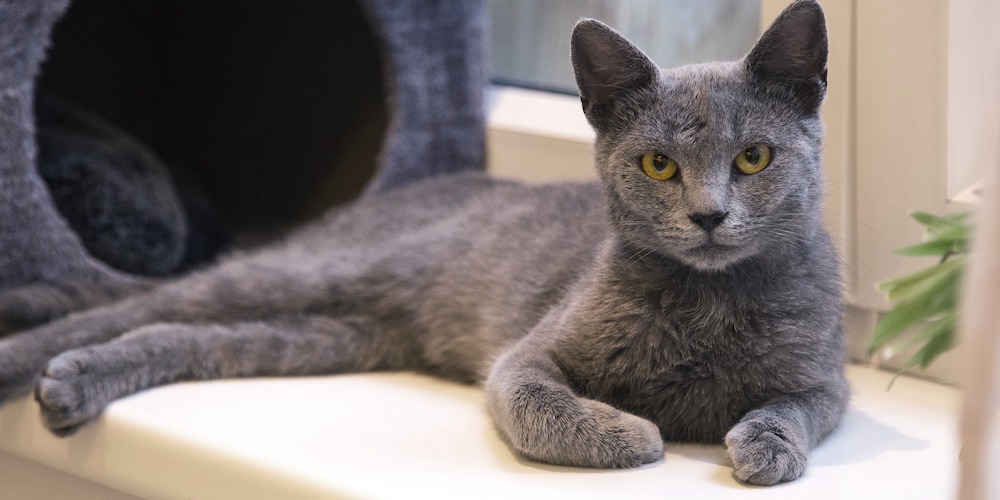 Appearance of the Russian Blue
It's a slender cat with a dense, double coat, and an elegant yet muscular body. They are a surprisingly athletic and quick on their feet despite their heavy appearance. Their triangular-head, flat forehead, and pointed, large ears give them a regal look.
Personality
Russian Blues are intelligent and curious cats. They are cautious of strangers and it can take some time for them to develop friendships with humans. However, once settled they are very loyal and form strong bonds with their owner and as a result tend to follow them around the house.
Health Care
This breed has very few health issues and a long lifespan, however they are prone to weight gain so it is encouraged for owners to measure their rations to avoid unnecessary health issues.
Owner's Responsibility
The Russian Blue requires regular physical and mental stimulation, so it's important to provide them with toys and climbing equipment that they can access throughout the day.
Ask our staff at Karingal Veterinary Hospital if you need more information or diet suggestions for your cat.
Russian Blue – Quick Look
| | |
| --- | --- |
| Size | Medium to Large |
| Weight | 4 kgs – 8 kgs |
| Coat | Short – Dense coat |
| Colour | Light Silver to a darker, Slate Grey |
| Lifespan | 15 – 20 yrs |
| Temperament | Intelligent, loyal and curious but reserved |