Popular Dog Series: The German Shepherd
Posted on: Dec 20 2019
History
The German Shepherd was bred from different types of shepherd dogs in the early 1800's and as its name suggests originated in Germany. The breed was taken to the UK where it was renamed the Alsatian to protect it from anti-German sentiments after the First World War.
It was bred for herding however, the modern German Shepherd is commonly used for guard dogs, police dogs, armed forces, emergency service and, occasionally, guide dogs.
Personality
German Shepherds are loyal and obedient dogs however, they are very protective over their owners and become territorial if they are not well socialised. They are a highly intelligent breed which makes them very easy to train but without this mental stimulation they can become unruly.
Poorly bred German Shepherds are prone to nervous and highly-strung behaviour, so it is advised to train them from an early age to avoid these issues. A well trained German Shepherd is a loyal, intelligent, protective and friendly family pet.
Appearance
The domed forehead, square muzzle and strong jawline, makes the German Shepherd appear wolf-like. They have large ears that naturally stand erect and a thick coarse coat. Some show dogs are still bred with an extremely sloping back, however this causes issues with the dog's gait and hind legs – most service dogs are bred with straight backs for this reason.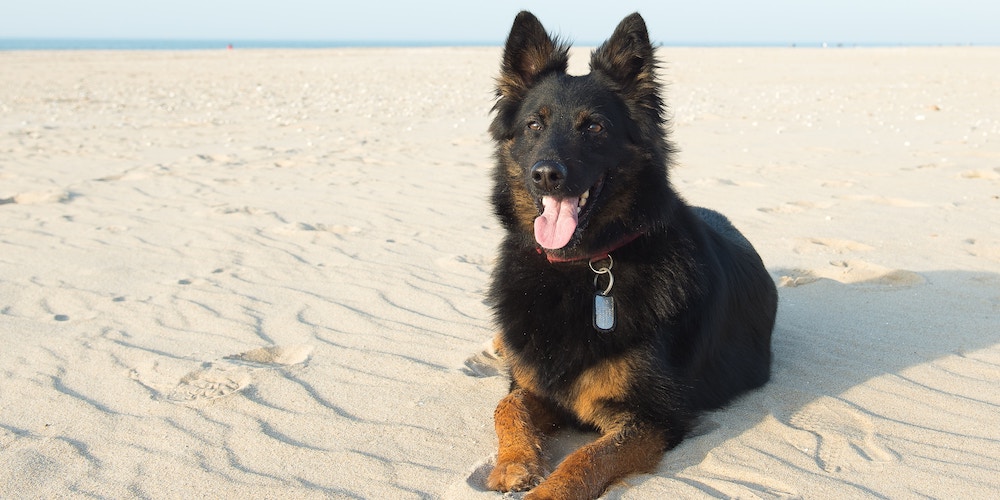 Health Care
German Shepherds are prone to hip dysplasia. In an effort to reduce the prevalence of this, a hip-scoring scheme was introduced in the 1980's to identify those dogs at high risk of producing puppies with hip dysplasia. Bloat, cutaneous vasculopathy and some congenital heart problems have also been found in the breed.
Owner's Responsibility
This breed requires brushing a few times a week. They shed their coat heavily twice a year and lesser constantly throughout the year. The German Shepherd needs a lot of mental stimulation so it is the owner's responsibility to train the breed from a young age.
German Shepherd – Quick Look
| | |
| --- | --- |
| Size | Large |
| Weight | 30 kgs – 40 kgs |
| Coat | Coarse medium – coated |
| Colour | Tan/ black, red/ black, sable & pure black (rare colours may also exist) |
| Lifespan | 10 – 12 yrs |
| Temperament | Smart, Loyal |