Congratulations to Frankston's Latest Puppy School Graduates!
Posted on: Nov 13 2017
Just a quick blog between our usual posts! At Karingal Veterinary Hospital, we run a month-long puppy school. Class sizes are kept small so that every puppy can get the attention they need, so it's important to book early for our next set of sessions.

Puppy school is an important part in a dog's development. Our five-week course teaches dogs and their owners what to expect from their new relationship, and how to manoeuvre through doggy dilemmas and life decisions, like desexing, pet insurance and parasite prevention programs. The puppies also benefit from socialisation — learning how to interact with people and other animals helps your pet to develop healthy behaviours, which will see them through the rest of their life. Owners might even make some friends as well!

All of our graduates receive a certificate and a graduation portrait, as well as some edible treats. Visit our Puppy School Gallery to view Karingal alumni.

Congratulations to our most recent Puppy School graduates, Dusty, Honey, Pepper, Roxy, Taite and Willow!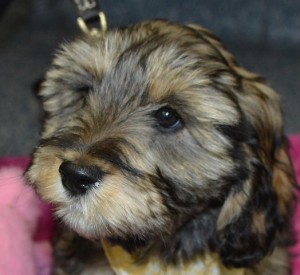 To learn more about our Puppy School program, click here. For Puppy School FAQ, click here. And for our Puppy School brochure, click here.
To sign up for the next puppy school class, and for all other puppy-related inquiries, contact Karingal Veterinary Hospital today.
If you are a new dog owner in Melbourne's South-East, including Frankston, Langwarrin, Somerville, Seaford, and Mornington Peninsula, save our Ballam Park Vet Clinic and Veterinary Hospital's contact details. Karingal Veterinary Hospital and Ballam Park Vet Clinic's phone numbers can be found at the top of this page.
Our regular blog posts will resume later in the week, when we continue our cat care conversation. Until then, why not read some of our other posts, on pet dentistry, pet emergencies and dog arthritis?