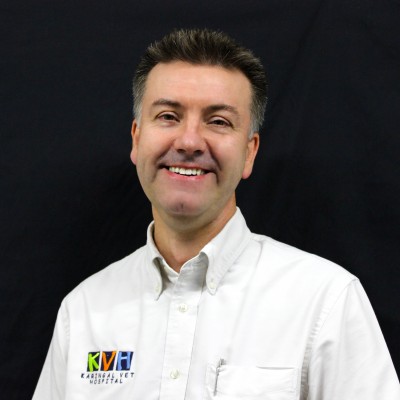 Position:
Practice Owner
Commenced:
1996
Qualifications:
BVSc (Hons), GCM(VP)
Biography:
Dr Shane Simpson is a Melbourne born and bred but graduated from the University of Queensland with a Bachelor of Veterinary Science (Hons) in 1996. Literally less than a week after finishing university he moved back to Melbourne to join Karingal Veterinary Hospital and has been here ever since!
In 2012 he joined Dr Scott Tinson as a partner in both Karingal Veterinary Hospital and Ballam Park Veterinary Clinic.
Shane has a keen interest in reptile and amphibian medicine and surgery which has earnt him the name "The Reptile Doctor". He has been able to convert his childhood fascination with this unusual group of animals into his career. As such Shane is often speaking at conferences and events on the subject of reptile medicine and surgery to fellow veterinarians, veterinary nurses and reptile keepers. When not playing with his scaled patients Shane can be found in our imaging room performing ultrasound examinations on all sorts of pets.
Not surprisingly, Shane's bucket list involves reptiles with visiting Madagascar and the Galapagos Islands being at the top. In addition he would like to see the Northern Lights.
The Simpson household is somewhat of a zoo with Butter (Bloodhound cross), Clarity (Diamond Python), Muzza and Victoria (Murray Darling Carpet Pythons), Stone and Pebble (Southern Angle-headed Dragons), Fog (Shingleback Lizard), GPO (Central Bearded Dragon) and an assortment of wild turtles in rehabilitation taking up residence. This does not include the many reptiles and amphibians that are found in the waiting room of Karingal Veterinary Hospital! The humans are wife Nicole and his two daughters, Sarah and Abbey.
Location:
Karingal Veterinary Hospital
Continuing Education Attended:
2017 Association of Reptilian and Amphibian Veterinarians, Dallas, USA (Speaker)
2017 Veterinary Business Group Summit, Melbourne, Australia (Speaker)
2017 Australian Veterinary Association Conference, Melbourne, Australia
2016 Australian Veterinary Business Association Conference, Melbourne, Australia
2016 Unusual Pet and Avian Veterinarians Conference, Brisbane, Australia (Speaker)
2016 Association of Reptilian and Amphibian Veterinarians, Portland, USA (Speaker)
2016 Australian Wildlife Rehabilitation Conference, Melbourne, Australia (Speaker)
2016 Australian Veterinary Association Conference, Adelaide, Australia (Speaker)
2015 Unusual Pet and Avian Veterinarians Conference, Sydney, Australia (Speaker)
2015 Australian Veterinary Business Association Conference, Melbourne, Australia
2015 Association of Reptilian and Amphibian Veterinarians, San Antonio, USA
2014 Association of Reptilian and Amphibian Veterinarians, Orlando, USA (Speaker)
2014 Unusual Pet and Avian Veterinarians Conference, Cairns, Australia (Speaker)
2014 Australian Wildlife Rehabilitation Conference, Hobart, Australia (Speaker)
2013 Unusual Pet and Avian Veterinarians Conference, Singapore, Australia (Speaker)
2013 Association of Reptilian and Amphibian Veterinarians, Indianapolis, USA